Suivant les versions, l'aspect peut être différent.
Sic Rs 14'0 x 26.0
Le sic rs 14'0 est un SUP de Race toutes conditions par SIC.

Dates de commercialisation: 2017-2018
---
Shape
Longueur en pieds: 14'0" ≡ 426 cm
Largeur en pouces: 26.0" ≡ 66.0 cm
Epaisseur: Non Communiqué
Volume: 315 litres
Nombre de boîtiers d'ailerons: 1
Option WindSUP: NON
Poids - Ajouter une mesure +

12.4kg - Version 2018 SCC - Donnée fabricant

Autres tailles: 3

Rs 14'0 x 23.0 - 279L [2017-2018]
Rs 14'0 x 24.5 - 297L [2017-2018]
Rs 14'0 x 28.0 - 340L [2017-2018]
Versions et Tarifs
-
Note sur les tarifs - Autres versions
2018 - SCC - construction carbone - Prix 2900€
0 annonce de sic rs 14'0 d'occasion
Tests du sic rs 14'0 et avis utilisateurs
A notre avis pour un gabarit ML - niveau intermédiaire
:
Technique dans les conditions difficiles
En balade:
Ils l'ont: Jeff (ML: 1m80 72 kg.) Vincent (L: 1m85 87 kg.)
Popularité: Cette fiche a été consultée 6 796 fois.
Par
Vincent
Gabarit
L
1m85 87 kg.
32 ans
Niveau
Avancé
Avis ajouté le 8 Janvier 2019--
Je l'ai
Usage: Race toutes conditions ;
Stabilité pour un gabarit L (Avancé) : Très bonne
---
Par
Jeff
Gabarit
ML
1m80 72 kg.
64 ans
Niveau
Intermédiaire
Avis ajouté le 15 Mai 2018--
Je l'ai
Usage: Race toutes conditions ;
Stabilité pour un gabarit ML (Intermédiaire) : Très bonne
Une planche très agréable en flat comme en downwind.
Passe bien le capot en up.
Très bonne glisse.
Super planche dont je suis ravi !!!!
---
Par
Astrorock
Gabarit
L
1m84 83 kg.
58 ans
Niveau
Avancé
Avis ajouté le 23 Février 2018--
Je l'ai testé
Usage: Race toutes conditions ;
Stabilité pour un gabarit L (Avancé) : Moyenne
j'etais impatiens d'essayer une rs. bon, 26 je ne partais pas confiant mais au final la planche sur le plat est stable. bien sur il faudrais essayer en mer. les sensations de vitesse sont bonnes, la planche facile, confortable avec son pont légèrement creusé. un gros coup de cœur pour une planche de serie. la meme en 28 en mer serais ideale pour moi. je veux essayer en mer.
---
Par
Nicolas
Gabarit
ML
1m75 82 kg.
46 ans
Niveau
Intermédiaire
Avis ajouté le 22 Février 2018--
Je l'ai testé
Usage: Tout type de balade ;
Stabilité pour un gabarit ML (Intermédiaire) : Très bonne
---
Plus d'avis: Voir tous les avis de la gamme rs
Vous l'avez? Vous l'avez testé? Pour donner votre avis, Ajouter la planche à votre quiver dans le cadre à droite.
Vidéos (2)
3:47
SIC Maui RS Series
Short for 'Rocket Ship' the RS Series is proving to be one of fastest all-water race boards in the world. We have developed and tested these shapes starting at Pacific Paddle Games 2016 and have made countless prototypes, refining and honing in on the perfect design characteristics. In 2017 all the R&D culminated into final prototypes that would be put to the test in technical, long distance, sprint, and downwind races in order to validate that the RS is one of the fastest, most well rounded, all water race boards in the world. This board has been a top finisher against the world's elite paddlers in races such as the Olukai, Association of Paddlesurf Professionals Tour - Hookipa Beach on Maui, the Carolina Cup and on The Euro Tour. These boards have been tested more than any other race board in SIC's history. The RS has proven to be race ready and will surely take you to the top of your game and the front of the pack. Aside from racing, the team has had a lot of fun on the wider width models, testing them in a variety conditions, touring and blasting downwind runs with friends. The shape and various widths and volumes have proven to be amazing for performance cruising, recreational fitness and touring.
---
10:17
SIC RS 14' 2018 Review / All Water race
In this SUPboarder review we look at the 2018 SIC RS 14'. The RS is a 14' all water raceboard that has a very simple, subtle shape compared to other top boards on the market. The smooth lines and curves make this board fast in a wide range of conditions. A board that an intermediate to advanced mid weight paddler will love.
---
---
Vous devez être connecté pour ajouter des vidéos
Plus d'info sur le sic rs 14'0
Short for "Rocket Ship", the RS Series has been developed to be a fast all-water race boards. The RS Series has a displacement hull to maximise glide at low speed. The more voluminous bow keeps the board from purling when paddling downwind and through chop. The center-line running down the foredeck sheds water quickly from the deck; geometrically it helps to stiffen the board, which further contributes to the board's speed. The midsection has a slightly dug out cockpit in the standing area, positioning the paddler closer to the waterline for enhancing stability and power to the board. The cockpit transitions to flat as you move to the tail for unimpeded movement when you step back to pivot turn or when standing on the tail on a downwind run. A wide tail provides for greater stability rail-to-rail and the tail does not bob up and down when paddling with a high cadence stroke. One of the most noticeable design characteristics is the channel on the bottom of the board. This helps to create high pressure under the board, further enhancing stability, directing water flow over the fin and promotes a straighter line through the water, as a straight line is the fastest distance between two points. The boards come complete with EZ-Grab handle, 12K carbon Weedless fin, two race handles, leash plugs for your bungee tie downs and leash attachments on the tail or in front of the standing area.
Displacement hull offers quick acceleration, efficient glide and top end speed in smooth conditions. The boards with displacement hull have a rounded bottom shape and piercing nose style in the bow. The nose of the board generally is designed to pierce the water, aid in board tracking and cut through chop to reduce drag and promote glide, as well as top end speed. The rocker line is generally flat and the volumes are greater than surf style boards. The added volume allows the board to float higher in the water which reduces drag thereby promoting better glide ratios and unlocks top end speed.
Votre AVIS
Pour donner votre avis sur le sic rs 14'0: la planche doit être dans votre quiver.
---
---
Pour le trouver en Shop
DIRECT SAILING LA BAULE
Tel: 0240153535
Vente de SUP Sic
à Pornichet
---
---
Exclusif sur standup-guide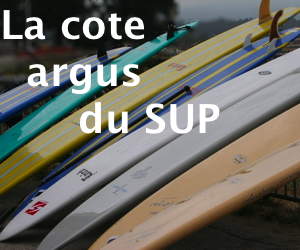 Info Partenaire
Oxbow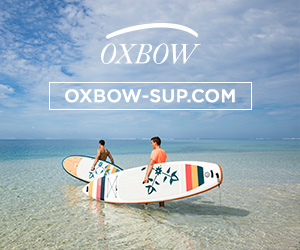 ---
---
A découvrir sur le même programme
redwood-paddle race 14'0 x 25.0 - 265L
Catalogue 2018
A partir de 1700€
starboard allstar 14'0 x 26.0 - 353L
Catalogue 2018
A partir de 2400€
starboard allstar 14'0 x 24.5 - 326L
Catalogue 2018
A partir de 2400€
starboard allstar 14'0 x 26.0 - 360L
Catalogue 2018-2019
A partir de 2400€
starboard allstar 14'0 x 24.5 - 337L
Catalogue 2018-2019
A partir de 2400€
oxbow racer 14'0 x 25.0 - 266L
Catalogue 2018
A partir de 2300€
Catalogue 2017-2018
A partir de 2900€
Autre comparatif:
Comparer le sic rs 14'0 avec un autre modèle en utilisant notre comparateur de SUP
---